Outdoor Cleaning Hacks for Decks, Patios & Lanais
Written by Lynn Smythe

No two outdoor spaces are the same; there are different issues to deal with while attempting to clean and maintain outdoor spaces. If you're having trouble keeping your deck, patio or lanai clean, then you're in for a real treat today. Here are some quick and easy cleaning tips that will set your outdoor living space apart from the rest.
Treat Stains Without Wrecking Your Deck
One of the most important bits of information you'll ever hear is how pressure washers are absolutely devastating to wood decks – they are! The psi (pounds per square inch) of the water coming out of most pressure washers is more than enough to damage soft wood or leave marks on composite decking.
You'll need some cleaning hacks to effectively get rid of dirt and debris without damaging the integrity of your wood deck or cement patio. Buy a nozzle for your garden hose that has multi-pattern sprayer functions. This will be far gentler than a pressure washer, while still doing a good job of removing stains from your deck.
Patio and Deck Cleaning Tips
People get patios and decks confused all the time, and that's okay. Patios are a paved or covered area sitting directly on the ground, while decks are a raised platform installed a few inches to a few feet off the ground. Patios are best used on flat terrain but decks can be installed just about anywhere, including uneven ground.
Patios can be made of paver stones, brick, cement, decorative/stamped concrete or sometimes even wood planks. Decks are most often made from wood planks, recycled wood decking or composite deck tiles. But how do you keep your pool deck or patio clean? Here are some cleaning tips and tricks for different materials.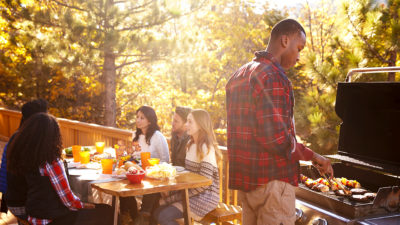 Stone Patio: If you've got
a stone, concrete or brick patio, it's time to get busy. After you take care of all those pesky weeds, remove your grill and patio furniture. Use a product like Rejuvenate® Outdoor Window Surface Cleaner to spray, rinse and instantly remove stains from your cement or paver stone patio. For stubborn rust and other stains, use a soft brush to gently agitate the surface before rinsing clean.
Follow up with Rejuvenate Outdoor Surface Renewer to create a barrier on all porous surfaces to lock out water and moisture and help prevent mold and mildew. The exterior surface sealer also seals small cracks on sidewalks and pavers to help stop weed growth. The last step is to put your furniture back in place and fire up the grill – go ahead and enjoy that bacon cheeseburger – you deserved it!
Wood Deck: We've mentioned earlier how you should never use a pressure washer to clean your wood deck. The first step to clean your deck is to remove all items including furniture, toys and potted plants. Pick up and discard any large chunks of debris, like small branches that fell down during the last storm. Then sweep away loose dirt and debris with a large broom – large clumps of leaves can go in your compost bin or place in a large trash bag for later disposal. The last step to cleaning a wood deck is to wash away any embedded dirt with your garden hose then let dry.
For stubborn deck stains, use a commercially available product specifically made to clean wood decks and spray the surface with the cleaning solution. Use a long-handled brush to gently scrub the entire surface then rinse clean. Once dry you can apply a waterproof stain to seal and protect your deck.
Deck Tile: This type of deck flooring material, most often available in 1 foot x 1 foot tiles, is usually made from a plastic composite that looks like wood. Interlocking deck tiles are long-lasting, durable and make an easy DIY project for most homeowners. More and more condo and apartment dwellers are using removable composite deck tiles to freshen up the look of their concrete balcony, rooftop deck or cement patio.
The best way to clean deck tiles is to sweep off all debris with a kitchen broom or large push broom. Fill a bucket with mild soapy water then use a soft brush to gently clean the surface of each tile. Follow up with a final rinse with clear water and let dry.
Lanai Cleaning
One of the best summer cleaning tips you can use to your advantage is how to properly clean your lanai. More often than not, other than people living in tropical-weather areas such as Florida and Hawaii, most people aren't familiar with the word lanai. As a result, you may not know how to properly clean this outdoor area of your home.
That's okay; just use these outdoor cleaning tips for the most effective cleaning process. Lanai's can be open or covered however; most are covered with mosquito curtains or a screened-in enclosure to keep pesky bugs and other critters from invading your outdoor space.
Netted-In Lanai: Mosquito netting, or shade curtains, both have a tendency to attract and accumulate fine dust and debris. The most effective way to clean the fine mesh material is to use a soft brush, or the dust attachment of your vacuum cleaner, to remove most of the dust. Follow with a damp cloth to remove any last traces of dust and voila – a clean lanai! If the shade curtains or netting are removable – take them over to your garden hose and give them a quick rinse for instant results.
Screened-In Lanai: Different from netted lanai's, a screened-in lanai typically has an aluminum frame with vinyl-coated fiberglass, aluminum or bronze screening to enclose the space. Screened-in enclosures are far more weather resistant than simple cloth-like netting, but also need more care. Under no circumstances should you take an abrasive cleaning tool like steel wool to it; while you may get that new shine, you'll also damage the integrity of the frame and screen mesh in the process.
Work on one section of screening at a time – starting from the top and working your way down. Use your garden hose with the nozzle on mist-mode to lightly wet down the surface of each screen. Fill a bucket with soapy water and use a long-handled brush to wash down the screening (again working top down). Finally rinse away all the dirt, debris and any remaining soap and let dry. TIP: It's best to work from the inside out – that way all the water, soap and debris lands in your yard and not all over your house!
More Outdoor Cleaning Tips
Utilizing these cleaning tips will have your outdoor living spaces looking freshly installed; your neighbors will wonder how you enhanced your deck, patio or lanai. When they ask how you did it, you'll know where to send them—right back here. Let Rejuvenate help you clean your home the fast and easy way so you can shout out your new motto: "My Home My Way in Minutes!"
Check out the Rejuvenate blog for many great articles with home and garden cleaning tips. Here are a few of our favorites: