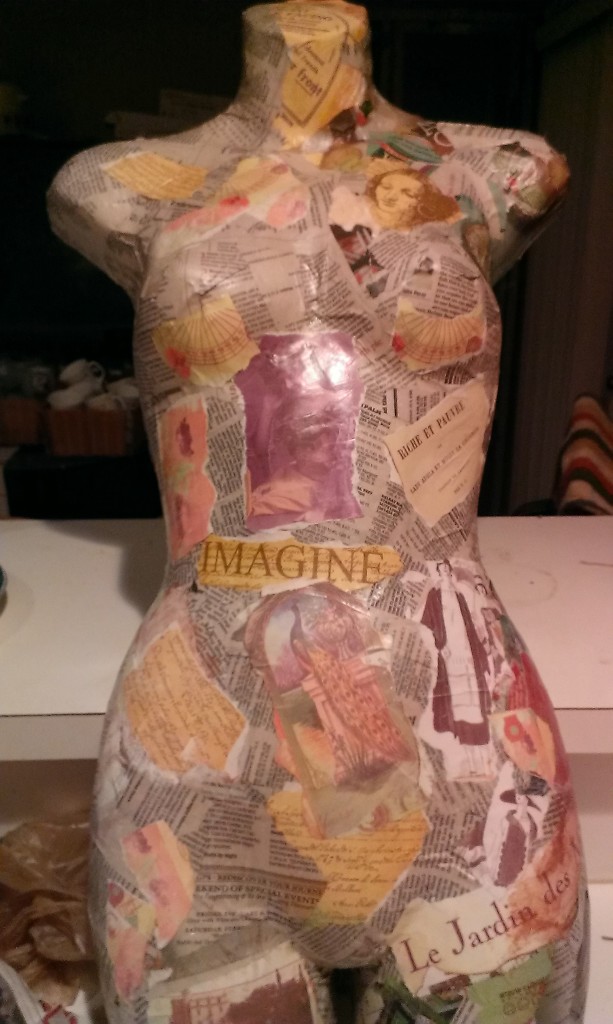 I'm always looking for unique and creative ways to display my jewelry. Now that I'm thinking of getting back into doing a few craft shows, I'm in the process of creating my booth setup. I haven't done any shows in many years, so I'm totally re-designing my craft booth.
I've been wanting a dress form, or something similar, to use as a focal piece in my vendor space. A few weeks ago I had a booth at the Gardens Indoor Yard Sale and was across the aisle from a vendor selling plastic female torsos. She uses them at her shows, and her customers are always asking where they could buy them, so she started offering them for sale.
I didn't want to spend any money at the yard sale, my goal was to get rid of some of my excess household goods while making a few dollars. The vendor came over to my booth and saw that I had a metal DVD rack for sale. She wanted to know if I was interested in trading the rack for one of the plastic torsos – SOLD! The form is made of white plastic, which I thought looked a bit tacky, so I thought about how I could make it look a bit more interesting.
Plastic Female Torso Details
Material: plastic
Details: hollow back female torso form
Fishing line hanging loop
30 inches tall
15 inches wide
Decoupage Fun
I had a bottle of Mod Podge in my craft supplies, and lots of decorative scrapbook paper, so I figured I'd cover the display in decoupage. The art paper was a bit too thick, so I decided to cover the dress form with a base layer of a thinner material. At first I tried tissue paper, but it was too thin and started to disintegrate before I could get it to stick to the form. I remembered I had some old newspaper pages leftover from the yard sale, which I had used to wrap some of the dishes and glasses I sold at the show.
The newspaper was the perfect thickness – not too thin and not too thick. I covered the form in small pieces of newspaper and added some of the decorative scrapbook paper in a few areas. I used Mod Podge with a matte finish, so it didn't look too shiny. I'm pretty happy with how the torso turned out, and will use it to display necklaces in my craft booth. The display has a thick monofilament cord on the back, which I will use to attach to my tent.
Decoupage Jewelry Display
Click on any of the images shown below to view a larger photo.
© 2015, The Creative Cottage. All rights reserved. Unauthorized use and/or duplication of this material without express and written permission from this blog's author and/or owner is strictly prohibited.