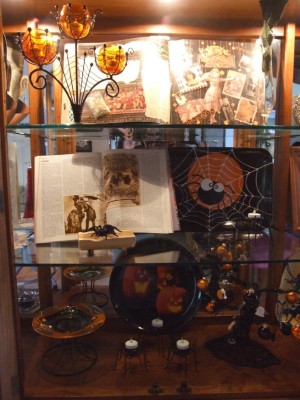 Get Crafty with Halloween Decorations
Do you have any special arts and crafts skills? You can make a variety of inexpensive, homemade decorations to use at your next holiday celebration. I like to do a bit of scrapbooking and altered art projects, so I made a large 12 inch by 12 inch Halloween themed scrapbook a few years ago. You can display the scrapbook, opened to your favorite page, as part of your Halloween decorations.
Here is an inexpensive Halloween decorating tip. You can buy packages of cheese cloth from your local hardware store, you'll find it in the paint supply aisle. Wash it in your washing machine with liquid laundry detergent and dry it on a low setting in your dryer. Most laundry detergents are black light reactive. Now you have black light reactive cheese cloth, which you can drape all over your display. NIFTY!
Glow-in-the-Dark Items
You can find black lights at local home improvement stores and Halloween stores. Replace your regular lights with black lights the night of your Halloween party. There are a variety of common, household items that are black light reactive, which can be used as part of your Halloween display. For the best effect, you have to wait until after dark before turning on the black lights.
Laundry detergent – glows pale blue
Tonic water – glows pale blue
Milk – glows a pale orange
Silly string – available in glow-in-the-dark version
Hair spray and face paints – look for glow-in-the-dark paints and glow-in-the-dark hair sprays at local stores.
Anything that is glow-in-the-dark will glow more brightly under black light. Neon colored paints really come alive under black lights. Orange, green, yellow and pink are the most common colors of neon colors. But I've also seen purple and blue available at some stores.
Neon tape – I purchased neon green, pink and blue tape from my local home improvement store two years ago. You can use the tape to decorate your walls, tables, etc… Turn off your regular lights, turn on the black lights and ooooh-aaaaah!
Homemade Halloween Creations
I have an artist studio set up in the back of my house, where I make a variety of fused glass creations. I made a pumpkin fused glass plate a couple of years ago that I use as part of my Halloween display. Are you a painter or jewelry artist? I'm sure there are many Halloween themed items you could think of to make for your next holiday celebration.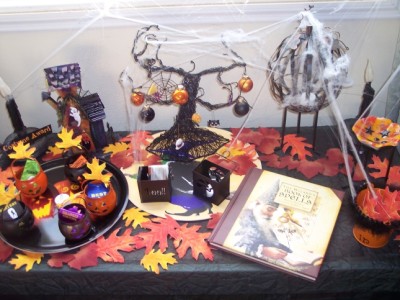 After Holiday Sales
After the holiday has ended, check the clearance section of local stores and online vendors to see what discounts they are giving on their overstocked/leftover holiday merchandise. We purchased a 7 foot tall artificial Christmas tree for $10 a few years back from our local Home Depot store. A tree this size normally retails for around $75, so it was a steal at only $10.
Leave a Comment with Your Decorating Ideas
Do you have a favorite Halloween decorating tip you would like to share with us? What kind of inexpensive craft projects have you made which are now part of your Halloween display?
Take care,
Lynn Smythe of The Creative Cottage
© 2015, The Creative Cottage. All rights reserved. Unauthorized use and/or duplication of this material without express and written permission from this blog's author and/or owner is strictly prohibited.