Great Products for Your Kitchen and Home
I recently had a chance to try out some awesome products from Full Circle. They make eco-friendly products for your home and kitchen. I signed up for their Try-A-Box promotion via Tryazon. My box contained 5 great items:
Citrus Ice Infuser Set
Clean Reach Bottle Brush
2 Zip Tuck Reusable Storage Bags
Splash Patrol Natural Latex Cleaning & Dish Gloves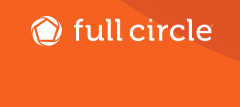 Citrus Ice Infuser Set
I can't believe I didn't know about this product sooner. It's the perfect way to keep my homemade lemonade tart and delicious. Regular ice cubes used to water down and dilute my delicious lemonade.
But now I simply squeeze a lemon over the top and all the juice is collected in the mini ice trays. Place the ice trays in the freezer in once frozen I have delicious lemon drops to add to my lemonade and iced tea.
Sometimes I like to add a bit of chopped, fresh herbs from my garden – like a bit of mint – before squeezing in the lemon juice. Mmm-mmm-good!
2 Zip Tuck Reusable Storage Bags
I use plastic bags for a variety of purposes but they're not that environmentally friendly. Most brands are one and done. With my recent order from Full Circle I also received 2 reusable storage bags. They are like "ziplock" bags, resealable, reusable and extremely durable. I got one in clear and one with a nice turquoise, coral, beige chevron pattern on a white background.
The ZipTuck Reusable Storage bag is a heavy-duty BPA-free bag that is food safe, leak-proof and air-tight. I'm using the clear bag to store my berry fruit salad(blueberries, strawberries and black berries – YUM!) in the refrigerator. I'm currently packing for a weekend trip to visit a friend, and I'm using the chevron pattern bag as a makeshift travel bag to hold all my makeup and hair accessories. The problem with my old cloth makeup bag is that if there is any water on the bathroom counter (who can see that well in the morning when you're getting ready?) then you end up getting everything wet.
Splash Patrol Natural Latex Cleaning & Dish Gloves
So, I used to think latex gloves were just for old ladies or people REALLY obsessed with cleaning. But you know what? They're a great way to protect your hands from drying out when doing the dishes, scrubbing out the toilets and other cleaning tasks.
To be honest, I'd LOVE to hire a housekeeper to clean my space, but until I hit the LOTTO I guess the only one knocking out these chores is me, myself and I.
Love the inner lining, soft like felt, and the little grippy bits on the palm that help me keep a secure grip on my slippery, soapy dishes.
So the next time you're faced with a sink full of dishes, and you just got back from getting your mani-pedi at the salon, grab a pair of these great Splash Patrol gloves and tackle that mess.
Bright green color with gingham accent goes great with my kitchen decor. I'd love to see them in other colors like neon orange or electric pink!
Clean Reach Bottle Brush
Best bottle brush I've used in a long time. I do a lot of running and cycling and go through a TON of water bottles. I usually fill my water bottles with an electrolyte solution to stay hydrated during my workouts and races.
By the end of my bike ride, or run, the outside of my bottle is usually caked in dirt and the inside has become a sticky mess. It's just about impossible to get the inside of the bottles clean using a sponge. Having a high-quality tool, like the Clean Reach Bottle Brush by Full Circle, is REALLY important to get every nook and cranny clean and sparkly!
I was also impressed that the brush head is replaceable. So when it comes time to replace it, I don't have to throw out the entire brush. Just pop off the old brush head and replace with a brand new one!
Full Circle Gallery
Click on any of the images shown below to see full-size photos of the Full Circle Try-A-Box products I recently tested.
Thank you again to the great teams at Tryazon and Full Circle for sending me these items to review on The Creative Cottage.
To follow on social media look for these hashtags:
#fullcircle
#tryabox
#tryazon