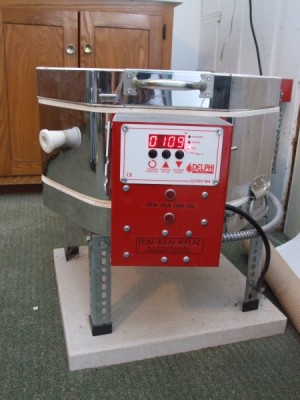 This blog post includes a photo gallery of some of the fused glass home decor items made by Lynn Smythe, Chief Designer for The Creative Cottage. Lynn started making fused glass jewelry pieces a few years ago after she purchased a small, tabletop kiln by Evenheat. A short time later she purchased a large floor model kiln by Jen-Ken. The larger kiln has a 14″ interior, which is perfect for making larger pieces such as plates, bowls and vases. In addition to fused glass creations, both kilns can also be used to make art clay silver, copper enamel and glazed ceramic pieces.
Now that Lynn's children are grown up, she is getting back to arts and crafts on a full time basis. She is pursuing opportunities to sell her craftwork at art galleries and local shows. Go to The Creative Cottage Show page for a current list of shows where Lynn will have a vendor booth.
Fused Glass Home Decor by Lynn Smythe
Click on any of the images shown below for a detailed, up close view of the fused glass piece.
Take care,
Lynn Smythe
Founder and Chief Designer
The Creative Cottage