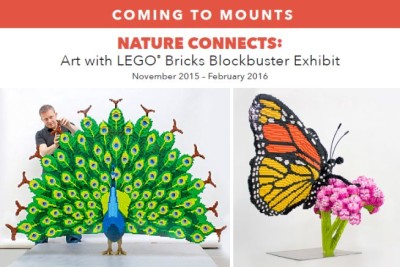 I'm categorizing this post as both Arts & Crafts and Home & Garden. It's a slideshow I put together from my recent visit to see the Nature Connects Lego's exhibition at Mounts Botanical Garden in West Palm Beach, Florida. I heard about the exhibit coming to Palm Beach County many months ago and have had it on my calendar ever since.
Nature Connects
November 14, 2015 through February 14, 2016
Mounts Botanical Garden
531 North Military Trail
West Palm Beach, FL 33415
Nature Connects at Mounts Botanical Garden
The lego sculptures were designed and created by Sean Kenney. In 2005 Sean became the first ever Lego Certified Professional. According to Sean's website "LEGO Certified Professionals are officially licensed by The LEGO Group and engage in certain types of commercial activities involving LEGO products. They are recognized by the LEGO Group as trusted business partners and operate as their own fully independent organizations." Sean is NOT a Lego employee, but rather their best customer with over 5 million pieces in his collection.
With over 50 Lego sculptures, the exhibit can be displayed in multiple locations at the same time. The Nature Connects display at Mounts Botanical Gardens contained 15 Lego sculptures making up 13 displays, which are scattered throughout the many acres of the gardens tropical landscape.
Here are a few photos I took while enjoying Nature Connects at Mounts Botanical Garden.
© 2015, The Creative Cottage. All rights reserved. Unauthorized use and/or duplication of this material without express and written permission from this blog's author and/or owner is strictly prohibited.