Lynn Smythe's Artist Portfolio
Website: TheCreativeCottage.net
email: lynn@thecreativecottage.net
Phone: 561-951-8194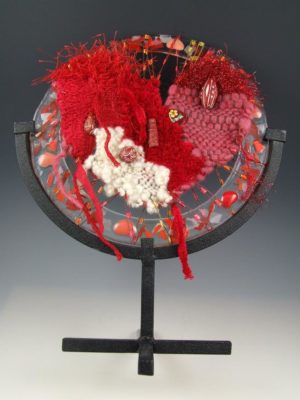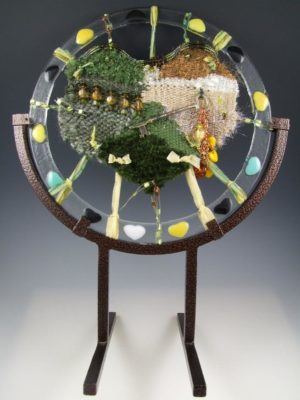 Lynn Smythe's Gallery of Work
Lynn Smythe is a craft artist living in Boynton Beach, Florida. Now that her children are grown, she is getting back into creating one-of-a-kind fused glass and multimedia decorative art and wearable art jewelry pieces.
Click on any of the photos shown below to view a slide show of my current work.
ABOUT THE ARTIST
Lynn enjoys learning new skills, which can be incorporated into her work. She is the former owner of a bead store, where she taught classes in various fiber art, beading and fused glass techniques. Prior to writing for various online sites, she used to write articles for print publications including Beadwork, Lapidary Journal and the now defunct Jewelry Crafts magazine.
A few years ago she became interested in fused glass, after admiring the work of glass artists online and at local craft shows. She went out and bought a few supplies, including her first kiln, and taught herself the technique of fused glass. Later, Lynn outfitted a large glass studio complete with two kilns, glass grinder, diamond band saw, jewelry tumbler, Dremel moto tool and a jeweler's torch.
She uses the larger of her two kilns to create fused glass home décor items like plates, bowls and vases. The smaller kiln is used to create fused glass pendants and cabochons, which are used in some of her beaded jewelry pieces.
GALLERIES
Art on Park Gallery
800 Park Ave
Lake Park, Florida 33403
www.artistsofpalmbeachcounty.com
MEMBERSHIPS
ARTIST'S QUALIFICATIONS
Level 1 Certified Art Clay Silver Instructor.
Teacher of various beading, fused glass and fiber art techniques.
Former bead store owner.
Former craft and bead show vendor – selling both finished craft and jewelry items along with bead and jewelry making supplies.
Freelance writer of bead, jewelry and craft articles.
ARTIST'S PUBLICATIONS
Altered Arts
May/June 2006 – Clown Album
Beadwork
Fall 1998 – Beaded Needle Case
Summer 1999 – Patterns
Winter 2000 – How-to Start a Bead Society in Your Free Time
December 2000/January 2001 – Flower Garden Loom-Woven Bracelet
Jewelry Crafts
May/June 1997 – A Lovely Lacy Miniature Pouch
November/December 1997 – Beaded Comanche Rosettes
May/June 1998 – Beaded Beads & Macrame
September/October 1998 – Amulet Bag Earrings
January/February 1999 – The Art of Glass Fusing
March/April 1999 – Make a Mini Amulet Bag
Lapidary Journal
September 1997 – Bead-Netted Cabochon
July 1998 – Macrame Beaded Earrings
April 1999 – Loom-Woven Bracelet
FEATURED CRAFT ARTIST
Lynn's beadwork is featured in a few books and magazines including:
The Sea; Selections From the 1st International Miyuki Delica Challenge. My dolphin themed beaded amulet bag is featured on pages 44-45. Edited by Barry Kahn, published by Caravan Beads Inc.
Beading with Peyote Stitchby Jeannette Cook & Vicki Star. One of my beaded needle cases is featured on page 101 of this book. Published by Interweave Press.
Creative Cash; How to Profit From Your Special Artistry, Creativity, Hand Skills and Related Know-How– pages 19, 91-92, 242-243. 6th edition, by Barbara Brabec, Prima Publishing.
The New Macrameby Katie DuMont. I wrote two chapters for this book. My beaded macrame projects are featured on pages 27, 41-43, 96-98. Published by Lark Books.
Make It Profitableby Barbara Brabec; pages 21, 32, 124, 145, 154, 169, 171. Published by M. Evans & Company.
"Insight – Bead Artists"; August 2000 issue The Crafts Report; page 17.
"101 Things You'll Need for Every Craft Show" by Barbara Brabec; August 1999 issue The Crafts Report; pages 26-27, 61.
"Something for Everybody"; January/February 1999 issue of the Tampa Bay Bead Society newsletter; page 5.
AWARDS AND RECOGNITIONS
1996 – 1st Annual Havana Bead & Jewelry Festival – 3rd place seed bead jewelry.
1997 – 2nd Annual Havana Bead & Jewelry Festival – 3rd place seed bead jewelry.
1997 – 31st Annual Show, Gem & Mineral Society of the Palm Beaches – President's Award Best of Show.
1999 – 4th Annual Havana Bead & Jewelry Festival – 1st place non-glass beads for 3 of my snowflake pattern beaded beads.
2000 – 5th Annual Havana Bead & Jewelry Festival – 2nd place jewelry.
EXHIBITIONS
Spotlight 1997 – American Craft Council Southeast Juried Exhibition; June 21-August 3, 1997; Hickory Museum of Art, Hickory, North Carolina.
Gallery of Art; October 17 – November 28, 1997; Jupiter Town Hall, Jupiter, Florida.
Bead Dreams, Future Visions; March 22 – June 14, 1998; Goldstein Gallery, University of Minnesota.
45th Florida Craftsmen Statewide Competitive; February 20 – May 10, 1998; Art & Culture Center, Hollywood, Florida.
2″x2″x2″; May 22 – July 3, 1998; Gallery Ten, Rockford, Illinois.
Gleaming Treasures; 4th Annual Embellishments; July 17-19, 1998; Sacramento Convention Center, Sacramento, California.
Millennium: Fiber Moving in a New Age; March 30 – April 20, 1999; Fine Arts Gallery, Kennesaw State Universtiy, Atlanta, Georgia.
Bead Something; July 15 – August 15, 1999; Prairie Edge Fine Art Gallery, Rapid City, South Dakota.
Gleaming Treasures; 5th Annual Embellishments; July 16-18, 1999; Portland Convention Center, Portland, Oregon.
Bead Dreams 2000; 1st Annual Bead & Button Show; June 1-4, 2000; Portland Convention Center, Portland, Oregon.
Gleaming Treasures; 6th Annual Embellishments; July 14-16, 2000; Portland Convention Center, Portland, Oregon.
Gardensart; January 19 – February 28, 2001; Burns Road Community Center, Palm Beach Gardens, Florida.
FOLLOW THE CREATIVE COTTAGE ONLINE
The Creative Cottage is active on a variety of social media sites:
REACH OUT TO THE ARTIST
To reach out to Lynn Smythe regarding studio, gallery or craft show exhibition opportunities: lynn@thecreativecottage.net.