Description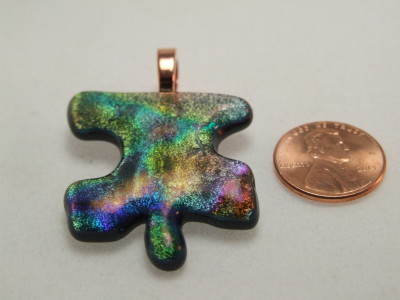 Fused glass pendant handmade by Lynn Smythe, the Founder of the Creative Cottage.
To make the pendants, she starts out by stacking 3-4 layers of glass and fusing them together in one of her kilns. This creates a large glass blank, which she takes to her diamond band saw to cut out various puzzle shaped pieces. The pendants are placed back in the kiln for a second firing, to fire polish the edges, which were roughened by the diamond band saw.
Once complete, she attaches a pendant finding so they can be worn on a neck chain or choker with magnetic clasp (available from our store). The pendants use a lot of dichroic glass, which changes color depending on the the way light is reflected off the surface.