Description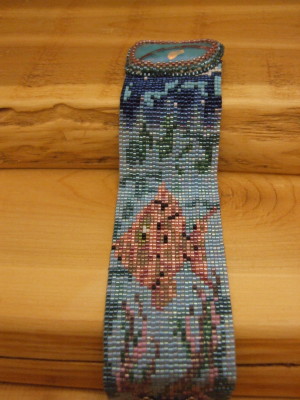 About the Designer
Lynn Smythe is the Chief Designer for The Creative Cottage. She offers a variety of her beaded patterns, including the Under the Seas Bead Pattern, for sale on The Creative Cottage online store.
Jewelry Care Notes
You are purchasing a one-of-a-kind, handmade piece of beaded jewelry. Follow these precautions to ensure a long life and years of enjoyment for your designer beaded jewelry.
You should ever wear handmade beaded jewelry while doing household or outdoor chores.
Never wear your jewelry while swimming or sunbathing.
Extensive exposure to saltwater, sunlight, chlorine or other harsh chemicals can permanently damage or fade the beads.
Jewelry should only be put on after showering or bathing.
Apply your make-up, perfumes, hair spray, lotions, etc. before putting on your beaded jewelry.
Store your jewelry in a clean, dry place when you're not wearing it.
Remove your jewelry before going to bed and place it in a closed storage container, such as a jewelry box.