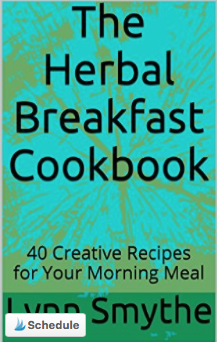 The Creative Cottage Founder Publishes First eBook
I've been writing for print and online publications since 1997. I have quite an extensive collection of recipes that I've created over the years. Every year or so I think about putting together a book proposal and sending it off to a traditional book publisher but never seem to get very far. Then I thought, hmmmm, I should see how hard it is to convert some of my recipes into an eBook. In fact, I have so many recipes that it could probably be a series of books.
A few months ago I did a quick search and found a FREE how to format your book for Kindle publication. It wasn't too difficult, the guide walked you through the steps of stripping out all the formatting in the MS Word doc and reformatting for the Kindle platform. I'll review the guide in another blog post, but after a few missteps, I finally figured it out.
Herbal Breakfast Cookbook
The Herbal Breakfast Cookbook: 40 Creative Recipes for Your Morning Meal (Herbal Cooking Magic Book 1) went live on the Kindle store on Saturday, April 2nd! For the low price of only $2.99 you get 40 creative recipes for your morning meal.
Here's the book summary I wrote for Amazon:
The Herbal Breakfast Cookbook celebrates the joy of cooking with fresh herbs and spices. The cookbook includes delicious breakfast and brunch recipes all infused with herbal flavorings such as basil, mint, lavender, ginger, dill, thyme, and cilantro.
The Herbal Breakfast Cookbook features 40 recipes for creating a variety of drinks, snacks, and light meals perfect for your first meal of the day. Recipes include Lovage Infused Tomato Juice, Lemon Basil French Toast, Rosemary Skillet Potatoes, Lavender Shortbread, Pineapple Sage Scones, and Sweet Spiced Coffee.
This book includes a variety of recipes for anyone that likes to cook with herbs and spices or that likes to experiment with new flavor combinations. If you don't have the time to cook all your meals from scratch, simply adding a handful of fresh herbs to prepackaged foods is a quick way to infuse your food with great flavor.
Herbs such as parsley, chervil and chives are relatively simple to grow in a small garden or in containers placed on your windowsill, balcony, or patio. Don't worry if you don't have the space to grow your own herbs, most grocery stores offer fresh herbs for sale in their produce department. And don't forget to check out the vendors at your local Farm Stand or Green Market.
The Herbal Breakfast Cookbook is part of the Herbal Cooking Magic series published by The Creative Cottage. Freelance Writer Lynn Smythe is the author of The Herbal Breakfast Cookbook. Lynn resides on 1.25 acres of land in south Florida, where she grows over 50 varieties of fruits, vegetables, herbs, and spices in her organic garden.
The garden offers an abundance of fresh produce to choose from allowing for ongoing experimentation with different flavor combinations. Lynn continues to toil away in her kitchen while creating and testing new recipe ideas featuring sweet and savory herbs and spices. Look for these original recipes in future editions of the Herbal Cooking Magic series.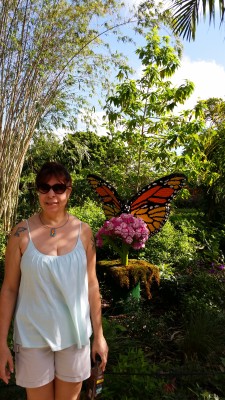 Herbal Cooking Magic Series
This book is part of the Herbal Cooking Magic series. Other books in the series include:
The Herbal Breakfast Cookbook – Volume 1
The Herbal Lunch Cookbook – Volume 2
The Herbal Dinner Cookbook – Volume 3
The Herbal Snacks Cookbook – Volume 4
The Herbal Drinks Cookbook – Volume 5
The Herbal Cookies Cookbook – Volume 6
The Herbal Appetizers Cookbook – Volume 7
The Herbal Desserts Cookbook – Volume 8
Now I have to get busy with writing the rest of the books in the series. Time to harvest some fresh herbs and veggies from my garden and get back to the kitchen to test the next set of recipes.
Take care,
Lynn Smythe
Founder The Creative Cottage
© 2016, The Creative Cottage. All rights reserved. Unauthorized use and/or duplication of this material without express and written permission from this blog's author and/or owner is strictly prohibited.