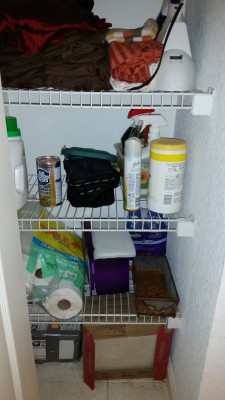 A few days ago I decided to give my linen closet a quick makeover. My current living situation has me between homes, so right now I'm staying at a friends house. Since I'm not the home owner, I can't do any major changes, such as painting. But I was getting kind of fed up with living in the Bachelor's Man Cave, so I decided to start doing a few home improvement projects that my roommate wouldn't object to.
I'd like to paint the linen closet and hallway, but it's not my house so I'll have to put that wish on hold. I looked around and found a few baskets and trays that I moved to the linen closet. I decided this would be the easiest way to increase the storage space in the closet and make it a little bit more attractive at the same time.
Adding smaller baskets to the closet, was the perfect spot to store all the sample size beauty products I've collected from races and hotels. Was kind of amazed how many samples I actually have, they were shoved in a bag in my bathroom sink. But now that I have easy access to them, I'll be able to start using the samples that include lip gloss, soap, hand sanitizer, lotion, and lots of shampoo and conditioner.
I don't like the look of the white wire shelves. Thinking about using contact paper to cover them up and make them a bit more attractive. Also, smaller items fall through the slats, that's why I ended up using so many baskets and trays to help organize everything.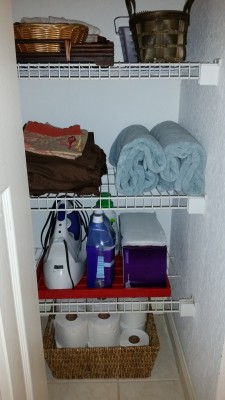 Here's a breakdown of what I used to organize my linen closet:
1 red wood tray
1 brown bamboo tray
1 three-tier wood display riser
1 lavender plastic basket
1 large wicker basket for toilet paper
1 copper/plastic container found at local thrift store
3 smaller woven baskets
Rearranging the linen closet created extra storage space in the closet, which I used to better organize some items in the guest bathroom. This freed up space in the guest bathroom, so that will be the next area I plan to tackle for a quick reorganization.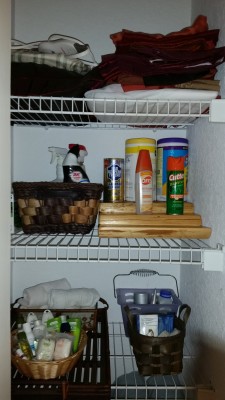 Dream Linen Closet Remodel
If I actually owned my own home, I would start my decorating projects by deciding on a paint and color scheme for each room.
For the linen closet and hallway, which are right next to a small guest bathroom, I would paint the entire area a neutral dark beige "cafe au lait" color.
Then I would use a patterned contact paper to cover each shelf. Probably something with a dark brown background with a pattern with beiges and turquoise.  Or I could get fancy use fabric remnants and a thick interfacing to sew shelf liners. I learned to sew when I was around 10, and was even a manager of a fabric store in CT for a brief time, so sewing projects aren't a big deal for me.
Take care,
Lynn Smythe
Founder The Creative Cottage
© 2016, The Creative Cottage. All rights reserved. Unauthorized use and/or duplication of this material without express and written permission from this blog's author and/or owner is strictly prohibited.