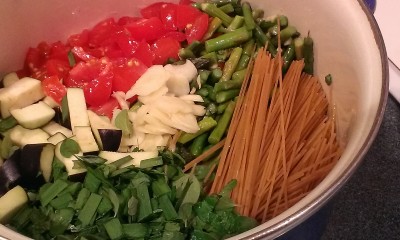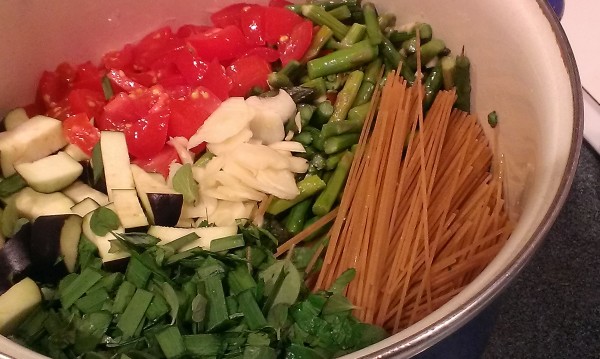 Have you ever been inspired to try making a recipe after seeing a delicious picture on someones website or blog? One pot spaghetti meals seem to be all the rage. I'm sure you've seen pictures of them on websites or on pin boards you're following. I've seen many variations on various food boards I'm following on Pinterest. I'm not including a link to a specific example, too many to choose from.  I read a bunch of recipes, then came up with my own version based on the ingredients I had on hand. No trip to the store for me, I went out in the garden and picked what looked good to me. I had tons of tomatoes, baby eggplant, oregano, basil, parsley, marjoram and society garlic in the garden, so that's what I used.
The basic formula seems to be 1 box of spaghetti, which can be 12 to 14 ounces depending on the brand you use, 4 cups of liquid and a bunch of vegetables. I didn't add any cheese to mine, because I am lactose intolerant, and needed to make a dairy-free version. Also, if you don't use cheese, and use vegetable broth instead of chicken broth, then this recipe would also be vegan. The cooking time can take anywhere from 10 to 15 minutes, once the liquid comes to a boil. The different times depend on if you are using angel hair pasta, spaghetti or fettuccine. I used whole wheat angel hair pasta, which only took about 10 minutes to cook.
Add all the ingredients to a large pot and make sure all the ingredients are completely covered with the liquid/broth.

Place a lid on top, then bring to a boil.

Turn the heat down to medium and remove the lid.

Stir the spaghetti and continue to stir every few minutes to prevent sticking.

Continue cooking until most of the liquid has been absorbed and the pasta is cooked through. You should have a bit of liquid remaining, this is your spaghetti sauce - no need to add any additional tomato sauce!

Turn the heat off and stir in the cheese if using.

I like to remove the pan from the stove so it doesn't continue to cook on the hot burner.

Leftovers can be stored in the refrigerator for up to 1 week.
Recipe Tips and Suggestions
If you don't like asparagus or eggplant, you can use just about any kind of vegetable you like. Mushrooms, onions, cooked spinach, etc. I used raw eggplant and oven roasted al dente asparagus in mine.
Just about any liquid can be used; water, vegetable broth, chicken broth, tomato juice, beef broth. Match your liquid to the rest of your ingredients.
The liquid needs to completely cover all the ingredients. I used 4 cups of liquid, but you may need to add up to 4 1/2 cups.
For a complete meal, serve your one pot spaghetti with Italian bread or garlic rolls.
© 2015, The Creative Cottage. All rights reserved. Unauthorized use and/or duplication of this material without express and written permission from this blog's author and/or owner is strictly prohibited.