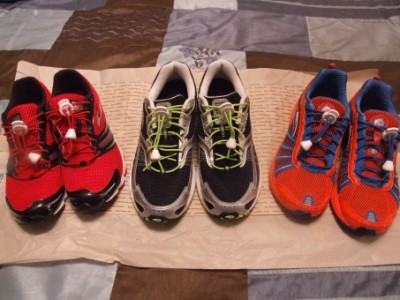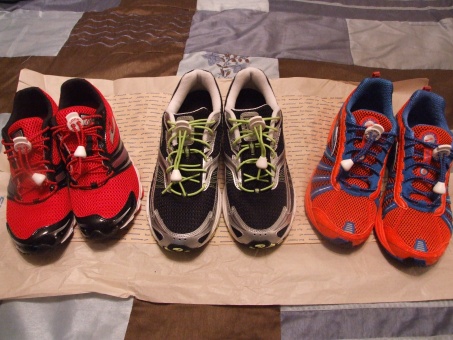 A common question I get from my running friends is, how often do you change running shoes. Or how many miles can you run in a pair of shoes before it's time to retire them and get a new pair?
How Many Miles Per Shoe?
I can log around 250-300 miles on each pair of shoes before retiring them and getting a new pair. The tops of the shoes still look great, but if you turn the bottoms over, once I start seeing a lot of wear on the treads it's time to replace shoes. I strike heavier with my right foot than my left, so my right shoe always wears out a lot quicker than my left. My chiropractor says I place about six pounds more on my right foot than my left, but when I first started seeing him, I placed 23 more pounds on my right foot – YIKES!
Besides the obvious signs of wear you will see when examining the treads on the bottoms of the shoes, eventually the rest of the shoe will start to break down. So even if the shoe looks okay, the inner cushioning and shock absorption qualities of the shoe will eventually start to wear down, another reason why you should replace your running shoes on a regular basis. I mainly use minimalist running shoes and racing flats, which don't have a lot of cushioning to begin with.
Running in worn out running shoes can lead to problems with your running gait, which can eventually lead to injuries. DO NOT run in old, worn out shoes! I usually save a pair or two of my old shoes, if they are still in pretty decent shape you can wear them to do strength training at the gym. I also like to keep an old pair on hand, if the treads aren't too worn out, to wear to muddy events. My daughter just used a pair of my old Newton shoes to run the Warrior Dash – there were multiple mud pits to run through so she just needed an old pair of shoes to use which she could throw out after the race.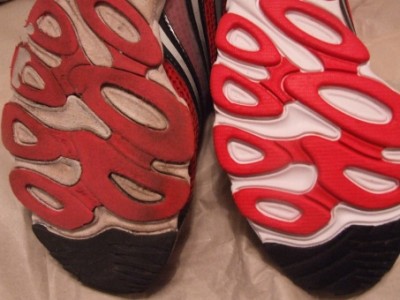 Daily Mile Gear Tracking
I normally rotate between 2-4 pairs of running shoes and keep track of the miles run in each pair. I use Daily Mile to keep track of all my workouts and each workout you record has a section called Attach Gear. I use that section to add all my bikes and running shoes, so that I know exactly how many miles per week/month/year each bike and pair of running shoes has. Daily Mile lets you retire gear, such as when you are getting rid of an old pair of shoes, or add new equipment, such as when you have just bought a new pair of shoes.
Donate Old Shoes
Many of the larger running races in my area have a collection area for old running shoes. The organization can refurbish and/or resole old shoes and donate them to people in need. My local YMCA  has a shoe collection bin outside the main entrance. So just because you are retiring an old pair of shoes, doesn't mean they have to go straight into the trash bin. Recycle whenever possible!
Take care,
Lynn Smythe of The Creative Cottage
© 2015, The Creative Cottage. All rights reserved. Unauthorized use and/or duplication of this material without express and written permission from this blog's author and/or owner is strictly prohibited.