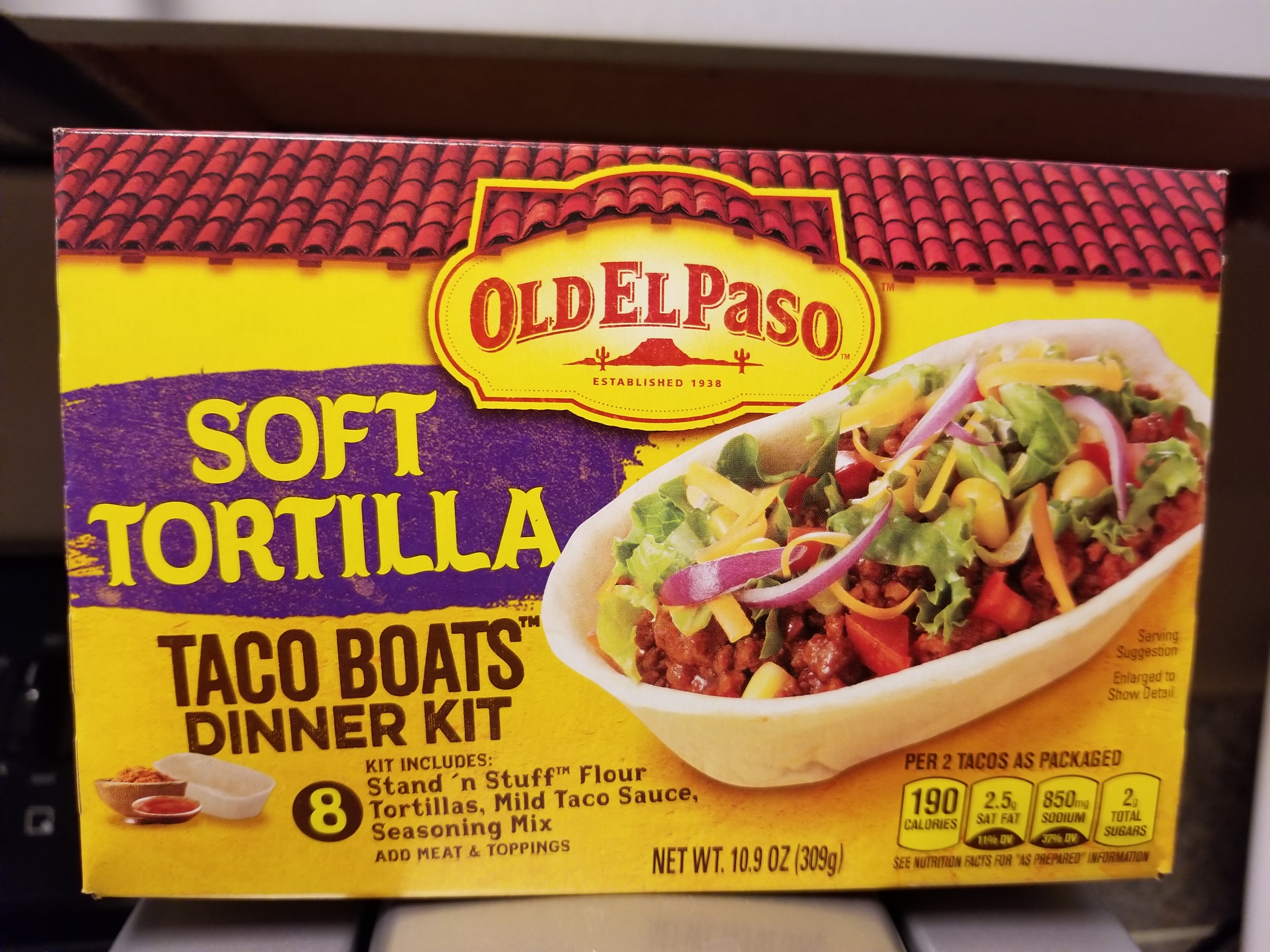 Old El Paso Taco Boat Kit is 'Da Bomb
Do you like tacos? That's a silly question – who doesn't like TACOS!?! My daughter has a part-time job at Tijuana Flats while she's attending the University of Florida at Gainesville (Go GATORS!). She went Vegan a few years ago but had to switch back to being vegetarian because she missed REAL cheese. We've tried all kinds of vegan cheese but nothing comes close to the creamy, melty goodness of the real deal. Moral of the story, don't try and become vegan if you work at Tijuana Flats or anywhere that sells TACOS or other goodies loaded with glorious CHEESE!
So anyways, I signed up with BrandBacker a few months ago and was accepted for my first campaign. Ol El Paso sent me one of their Soft Tortilla Taco Boats Dinner Kit. FREE tacos!?! Hellz to yes please! Well, not exactly free – the kit contains the following items:
8 Stand 'n Suff flour tortillas
Seasoning mix
Mild Taco sauce
I popped over to Publix to buy a few ingredients so I could have a Taco Fiesta at Home:
Package of ground turkey – you could sub ground beef
Guacamole – you could make your own from scratch
Tzatziki sauce – you could sub sour cream
Mexican cheese blend
Taco Boat Ingredients
Although most people use ground beef for tacos, I pretty much stopped eating red meat about 6 or 7 years ago. I still have a real hamburger every once in a blue moon, but anytime I need to buy ground meat for a recipe I always end up buying ground turkey. That's just my personal preference.
Tzatziki is a traditional Greek spread/dip made from plain Greek yogurt, grated cucumbers and dill. The finished product tastes almost identical to sour cream dip with chives so it's not really that weird to have tzatziki on your tacos.
As far as the sunflower seed sprouts go – I had a giant container of them in my refrigerator and forget to buy lettuce when I went grocery shopping. I actually liked the sunflower seed sprouts – they were bright green and very crunchy and were the perfect taco boat topping.
Easy to Make Taco Fiesta Dinner
The Old El Paso taco boat kit makes putting dinner together a snap. Brown your ground meat, drain off any excess fat, add the seasoning packet and a bit of water and let simmer until thick. While the meat was browning, I wrapped the taco boats in a bit of foil and placed in a 350 oven for 10 minutes to warm up. Once the meat is finished, and the taco boats have warmed up, you grab all your toppings and load up your boats.
Here's how the Creative Cottage created their taco boats:
spread a layer of guacamole on the bottom
topped with a layer of seasoned meat
added a sprinkle of grated cheese
topped with tzatziki sauce
poured on some taco sauce
finished with a bit of sunflower seed sprouts
I was pleasantly surprised when I cut the taco boats in half they didn't totally fall apart. Unlike a hard taco shell, that busts up as soon as you bite into it, the soft flour taco boats held their shape from first to last bite. Yum-o!
The Creative Cottage Verdict
My only complaint with this kit is that there wasn't enough taco sauce. You get a very small package of mild red sauce with the Old El Paso Taco Boat Dinner Kit. I used half the package with the 2 tacos I made that are featured in this blog post. The kit contains 8 soft flour taco boats so, that definitely not enough sauce.
I would have given this kit a 10 out of 10 but due to the skimpy portion of taco sauce, I can only give it a 9. I still recommend the kit, but just know you'll want probably want to have a jar of salsa on hand to spice things up and make sure everyone has enough sauce for their meal.
Winner – winner – fiesta taco boat dinner!!!