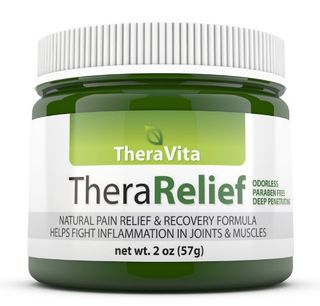 Thera Vita was kind enough to send me a jar of their Thera Relief to review on my blog. I received one or more of the products mentioned above for free using Tomoson.com. Regardless, I only recommend products or services I use personally and believe will be good for my readers.
Great Pain Relief Formula
The product came package in a 2 ounce jar, wide mouth jar making for easy application the pain relief formula. The product is thick and creamy making for easy application to wherever you need it. I'm getting back into running, after a long hiatus, and am experiencing a bit of pain in the back of both knees. I tried rubbing a bit of Thera Relief into my knees and it was only a minute or two before I felt it working.
Thera Relief provides pain relief to help fight inflammation in your joints and muscles. The product claims to be odorless, but I noticed a very faint but pleasant scent. But it doesn't have any kind of menthol scent like some brands of pain relief creams. The Thera Relief cream contains a variety of soothing ingredients including jojoba oil, sesame seed oil, sweet almond oil, avocado oil, rosehip oil and pomegranate seed oil.
You can buy Thera Relief on Amazon: http://www.amazon.com/pain-relief-cream-alternative-guaranteed/dp/b00h5wixka
Find Thera Vita Online
Therea Relief Product Description
TheraRelief provides instant pain relief while helping the body fight inflammation in joints and muscles with all natural ingredients that are free of dangerous chemicals such as parabens. It includes over 27 deep penetrating clinically proven compounds including Glucosamine and Chondroitin that will help your body heal and recover, rather just mask or cover up the problem.
It does NOT have a strong "menthol" smell. It is odorless, does not burn, won't leave you greasy and does not have any known side effects.
It will help you fight inflammation naturally while soothing joints and muscles affected by arthritis, tendonitis, fibromyalgia, overuse pains and other strains.
Take care,
Lynn Smythe of The Creative Cottage
© 2015, The Creative Cottage. All rights reserved. Unauthorized use and/or duplication of this material without express and written permission from this blog's author and/or owner is strictly prohibited.